Here are three of the most popular Crawlers out there. They are the Traxxas TRX-4, Axial SCX10 II (RTR version) and HPI Venture. Having difficulty on which to choose? We are here to help! Get the perfect one for yourself!
Traxxas TRX-4 has the largest frame out of all three, closely followed by Axial SCX10 II, then the HPI Venture.
They all come with pre-painted body with molded scale detail parts.
Traxxas TRX-4 Land Rover Defender Body comes in three different colors. Grey, Red and Green.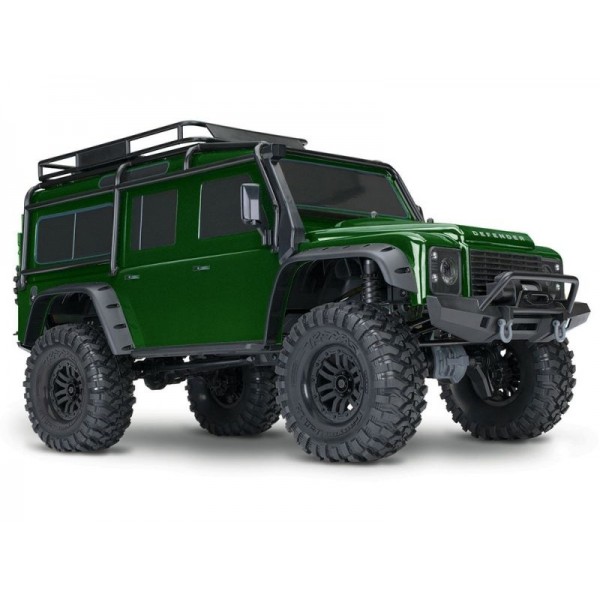 Don't forget about the Trx-4 with Tactical Unit Body!
To get the TRX-4 & SCX10II moving, you will need a battery, a charger and 4 AA batteries for the transmitter. HPI Venture has the battery pack, charger and 4 AA batteries included! So its is completely ready to run!
Basic specs comparison:
Traxxas TRX-4 12.75" wheelbase, 7.43lb.
HPI Venture 12.3" wheelbase, 5.3lbs
Axial SCX10 II 12.3" wheelbase, 4.5 lbs
They key features of the TRX-4 are the superb build quality. The shocks are properly filled, all of its screws are nice and tight but not stripped.
The HPI Venture has a simple clean layout with decent amount of metal parts in high stress areas.
The truck is truly waterproof as well, which is a big plus.
SCX10 II has extremely accurate replica, great technology underneath the body, lots of adjustable options to upgrade for different terrains, extreme durability and the price is very affordable.
As you can see here, the Traxxas TRX-4 has the most complex layout
Traxxas TRX-4 vs Axial SCX10 II vs HPI Venture Video
Get Traxxas TRX-4 now at: https://goo.gl/SrW2M3
Get Axial SCX10 II nowt at: https://goo.gl/GDtH4y
Find out more about the HPI Venture at: https://goo.gl/4iqNwA
You may also want to read more on:
Traxxas TRX-4 vs SCX10 II All in depth Comparison
Top 5 Features of the HPI Venture Crawler Toyota FJ Cruiser RTR
—
rcMart
We Help People Have Fun with RC
http://www.rcMart.com
Credit @rcgirl
https://www.youtube.com/channel/UC9uu9z4SCfKwzQuY6PXpcNA
Social Media
Facebook Page: https://www.facebook.com/rcmart
Instagram : https://www.instagram.com/rcmart2001
Youtube: https://www.youtube.com/user/dinballian
電波模型 – 遙控模型車專門店
經銷、代理各國名牌遙控車原裝零件、升級件、周邊產品